Winter Tourism in Finland
---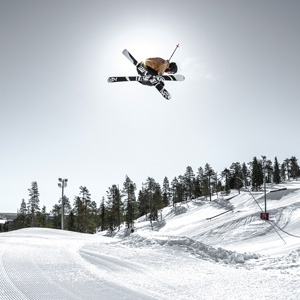 We have developed the climate service application SnowApp2, and a test round is currently taking place during the skiing season 2019/2020 in Ruka ski resort. The next steps will be analysing the success of the tool in helping decision-making during the season, and undertaking an economic evaluation.
---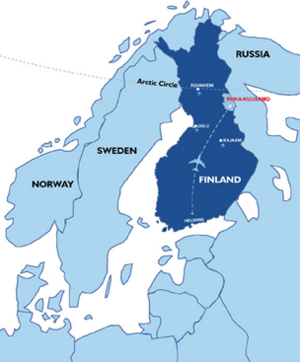 Winter tourist destinations rely on predictable cold weather conditions to ensure the safety and enjoyment of the millions of visitors each year. Global rises in temperature, warmer early season temperatures and unusual weather occurrences are a challenge to the livelihoods of communities based around destinations such as ski resorts.
This case study focuses on providing relevant predictions on snow cover for a partner ski resort to allow preparation for the winter season. Ruka is a Northern Finnish ski resort that welcomes around 400,000 skiers annually. It is in the business strategy of Ruka ski resort to be the most snow secure resort in Europe. A consistent snow base is a key resource for Ruka that has around 200 skiing days from early October to early May, and it relies heavily on machine-made and stored snow to ensure the slopes can be opened early and maintained through the winter.
Blue-Action has co-designed a climate service incorporating short- to medium-term climate predictions into ski season, offering substantial value to Ruka and other ski resorts facing similar challenges. For example, early season snowmaking can be up to 30 times more expensive than it is in the colder mid-season. This difference in cost means that it is more efficient to make snow in January and store it over the summer, than it is to make snow for immediate use in October. Seasonal climate forecasting can help Ruka to anticipate its machine-made and stored snow requirements and to plan accordingly for the upcoming ski season. It can also provide Ruka with valuable information about changing weather patterns and future temperature trends.
Leader: Ilona Mettiäinen, University of Lapland, ilona.mettiainen@we dont want spamulapland.fi
Roxana Contreras, University of Lapland
Martin Coath, University of Lapland
Jusu Toivonen, Rukakeskus
End-user report summary available in Zenodo
Model Information Utilization Report available in Zenodo
Assessment Methodology Report available in Zenodo
---
View our Case Study Video
Selected baseline prediction data